Discover How RocketReach's Contact Database is a Lead Generation Powerhouse

Overview: Generating Qualified Leads to Fill the Pipeline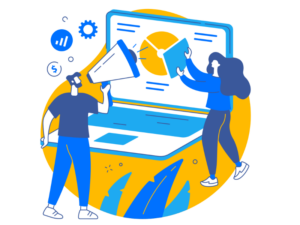 The way consumers research information, engage with brands, and even purchase products and services has transformed. In tandem, more and more companies have shifted from the "traditional" in-office 9 to 5 workplace to hybrid and remote working models.
As such, marketers need to be even more creative and proactive in their strategic approaches. Marketing departments have had to change not only the way they attract and retain customers; but how they allocate their budget. Low-cost, high-impact marketing resources have become paramount.

In order to achieve their goals while saving money and resources, marketers must use advanced prospecting tools to reach the consumers most likely to buy. A comprehensive contact database with real-time, verified information enables marketers to effortlessly connect with key decision-makers to spur sales and drive ROI, all while saving time and money.

Challenge: Finding the Right Prospects to Target and Nurture
For marketers, one of the greatest challenges when it comes to account-based marketing and drip campaigns is finding the right prospects to send them to. Many marketing departments take a passive approach—creating gated content that requires a lead to seek out the information first.


However, many competitors are doing the same, producing content that ranks just as well when it comes to organic efforts.


On the other hand, sifting through massive piles of contact data to find up-to-date and relevant information to proactively send lead generation content can take hours—even days—to complete. This is especially true for marketing teams that are working remotely and cannot communicate in a timely fashion. Worse yet, if these contacts are old, outdated or junky, all efforts were made in vain. This eats away at a marketing team's precious—and scarce—resources.




Savvy marketers need to find an effective solution to target qualified prospects while streamlining their lead generation processes. Without an accurate and up-to-date contact database that offers hyper-focused search capabilities, marketers will see negative impacts on campaign results, as well as their bottom lines.


Solution: Utilizing an Accurate Contact Database – Generating SQLs
RocketReach's robust contact database allows marketers to improve efficiency by having access to real-time verified data for 700+ million professionals across 35+ million companies worldwide. Marketers can tap into hundreds of millions of AI-verified phone numbers, emails, and social media links, as well as enterprise information, org charts, and technographics.
With over 100 advanced search filters, marketers can drill down into minute detail to find the leads most likely to take action. Additional features include:
Bulk look-ups

Desktop Chrome extension
Seamless integration into existing tech stacks, including Salesforce, HubSpot, and Zapier
Due to its ease of use, RocketReach requires minimal training. This allows marketers to spend more time on creating campaigns that yield lucrative results and less time learning to use new software.

Results:
Saving Time and Money while Increasing ROI
Marketers who use RocketReach to find qualified prospects can save time and improve their bottom line. They have access to the world's largest and most accurate database of AI-verified contact information in real-time.
As a result, marketers can instantly reach and engage decision-makers who are already looking for and interested in buying their products or services. Gone are the days of wasting time digging through bad data and spending money on campaigns that will never reach the right audiences.
With RocketReach, markets can develop and deploy effective campaigns that engage quality prospects, all while saving time and money.
"RocketReach is your #1 partner for getting emails to connect for sales/marketing/PR connections. RocketReach is one of our new trusted partners for all things business development, sales, talent and executive search related. If you need to find someone's email, and can't find it, RocketReach is your new home for all things emails. Amazing aggregator of past and present email handles to hopefully get in touch with that someone you are targeting for business purposes."
"I'm impressed such a powerful lead tool exists. This tool is essential for verifying the quality of lead lists you build with LinkedIn. Think of it as LinkedIn Sales Navigator on steroids. What I like the best about RocketReach is you can submit information via the interface to improve the quality of search results. For example, if you know someone who has recently changed roles and employers, there is a simple way to provide updated information for every RocketReach user to benefit."
"Great tool for filling the gaps in your outreach. It has helped us expand on the data and gives us alternative routes in communicating with prospects. It has helped us reconnect the conversation when the original point of communication falls off. Lead quality has improved and we are able to get the full picture on our audience when they join one of our live webinars."
"Good data at an affordable price. I looked at several alternatives before deciding on Rocket Reach. The others I found were either outrageously expensive or the data was poor. Rocket Reach's data is good, and the price is reasonable. My target market is robotics companies, and the ideal contact within the company is in marketing. I've been able to use Rocket Reach to find the right companies and the appropriate people within the company."
"Invaluable insight and date. I like the ability to see company size, # of employees, titles, leadership teams, contact information, etc. This service has been invaluable to assess each company and locate the best contacts and their locations. The amount and accuracy of the data available is well worth the reasonable subscription."